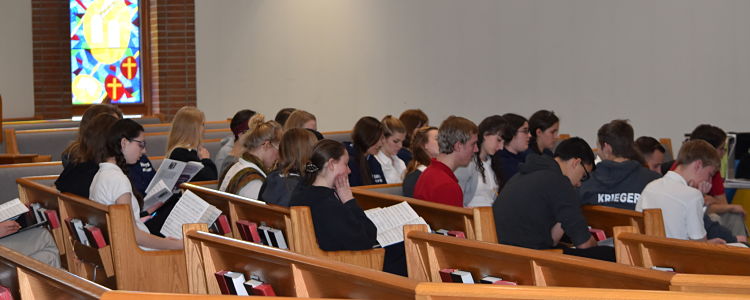 HEARTS is a multi-denominational organization comprised of Christian families representing many different Christian churches and denominations, all with a common belief in the Lordship of Jesus Christ, salvation through Jesus Christ alone, the divinity of the Trinity, and the Bible as the only inspired Word of God. Regular attendance at a Christian church comprising more than the member family, as well as affirmation of the following HEARTS Statement of Faith, is required for HEARTS membership:
We believe that the Bible is the only inspired Word of God (2 Timothy 3:16, 2 Peter 1:21).
We believe in one God, existing in three persons, the trinity: God the Father, God the Son, and God the Holy Spirit. Through Him all things were made. (Genesis 1; 2 Corinthians 13:14; John 1:24; Luke 1:35)
We believe that Jesus Christ is God come in human flesh, born of the Virgin Mary, being fully God and fully man except without sin (Genesis 1:1, Matthew 28:19, John 10:30).
We believe all men have sinned and fallen short of the glory of God (Romans 8:28) and are in need of redemptive salvation through Jesus Christ (Romans 3:23, 6:23).
We believe Jesus Christ paid the price for man's sin through His vicarious and atoning death (1 Corinthians 15:3, Ephesians 1:7, Hebrews 2:9), was resurrected (John 11:25, 1 Corinthians 15:4), ascended to the right hand of God the Father (Mark 16:19), and will return personally in power and glory (Acts 1:11, Revelation 19:11).
We believe salvation is offered as a free gift to the sinner (Romans 4:5), responded to in individual faith, following the example of the life of Jesus Christ (Ephesians 2:8-9), recognizing that we are not saved by our own power, yet recognizing that true faith in Christ is evidenced by willingness to respond in service as He calls (James 2:20-21, 26).
We believe the Holy Spirit dwells in all believers (John 14:15-17), enabling and empowering us to live a Godly life (Galatians 5:16) and creating fellowship between us.
We believe that God wonderfully and immutably creates each person as male or female, being two distinct, complementary genders which together reflect the image and nature of God (Genesis 1:26-27).
We believe that Biblical marriage is limited to a covenant relationship between one man and one woman, ordained by God, made legally binding in an official ceremony according to state law, with sexual relations to be exercised solely within marriage of one man and one woman. (Genesis 1:27, 2:22-24; Matthew 19:4-6; Mark 10:6-9; Ephesians 5:22-33; Hebrews 13:4).
We believe that children are a blessing from the Lord; the fruit of the womb is His reward (Psalm 127:3). God has called parents to nurture and train their children in His Word by diligently directing and providing each child's education as a parent's primary right, duty, and privilege (Deuteronomy 6).
We believe that we are one body in Christ, and each of us is a part of it (1 Corinthians 12:24-25, 27).