Welcome to HEARTS for Jesus Christ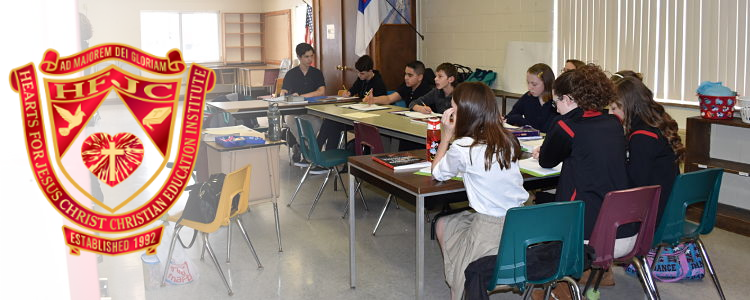 HEARTS for Jesus Christ Christian Education Institute, or HEARTS as we are widely known, is a specialized educational community for Christian home schooling families with children in pre-school through 12th grade. HEARTS is also a ministry of support and encouragement to like-minded Christian parents who have accepted God's call to teach their children at home.
HEARTS operated as an association of its member families from 1992 until August of 2004 when it incorporated as an Ohio non-profit corporation. It later applied for and received recognition as a tax exempt organization under Section 501(c)(3) of the Internal Revenue Code. HEARTS meets regularly during a school year that generally coincides with the school year of other area public and private schools, and ends with a graduation ceremony for seniors who have completed their high school studies.
HEARTS is a member of and active participant in the Association of Christian Schools International (ACSI), an organization of more than 23,000 Christian schools in 100 countries. Member families take advantage of:
Opportunities that cannot be pursued by individual homeschooling families such as choirs, band, orchestra, drama, theatrical productions and a variety of organized sports and athletics.
Classes that require special experience or expertise to teach, such as art, foreign languages, and secondary level sciences and labs.
Classes that address Ohio's mandatory curriculum requirements.
Electives that provide variety and enrichment in the students' studies, such as photography, speech, drama, science fairs, sewing, ice skating, and worship dance.
Field trips to supplement classroom study.
Student competition in local, regional and national music, art and sports events through ACSI, the National Association of Christian Athletes (NACA), Ohio Christian School Athletic Association (OCSAA), and other venues including events held in cooperation with area public schools.
Fellowship, friendships and activities with other like-minded homeschooling families and students both in and out of classes.
During the 2018-19 school year, over 100 member families enrolled with over 250 students, blessing HEARTS with:
More than 80 academic, physical education, music, fine arts and performing arts classes
Numerous music activities such as choirs for every age, an orchestra and jazz band, and numerous vocal and instrumental ensembles, each performing in various settings including state- and regional-juried competitions
Last year's performance of HEARTS, Wrangler Ranch, followed by the 2016 performance of The Hiding Place. (Past productions have included Kilroy was Here!, Robin Hood: Tales of Ye Merry Woode, Commedia Delight, a 16th century Italian comedy; The Pink Panther; Anne of Green Gables; The Lion, The Witch and the Wardrobe; and Les Miserables.)
Competitive state and regional academic events sponsored by ACSI (including art festivals; science fair; speech meets for elementary, jr. high and sr. high students;spelling bee; geography bee; young authors & illustrators; math olympics; creative writing; desktop publishing; and Christian leadership conferences for middle schoolers and high schoolers)
Varsity, Junior Varsity, and Jr. High interscholastic teams in boys soccer, girls volleyball, boys and girls basketball, boys baseball, and cross-country, as well as several boys and girls intramural teams, continuing an athletic program that is
An eight-time ACSI or OCSAA state champion, and seven-time NACA national champion, boys varsity soccer team
A five-time ACSI or OCSAA state, and a two-time NACA national champion, girls varsity volleyball team
AND 2014 OCSAA Baseball Champs!